FPLC medium and low chromatography column (ID: 6.6-50mm)
Chromatography column and packing
---
FPLC medium and low chromatography column (ID: 6.6-50mm)
FPLC medium and low-pressure liquid chromatography columns are designed for scientific researchers who purify biological products, and can meet laboratory-level small tests and scale-up. Its pressure resistance can reach 900psi (60bar), breaking the limitation of the conventional glass chromatography column only tolerating 5bar. It can be filled with soft rubber packing or biological hard rubber packing, faster flow rate, higher layer Analyze efficiency and give you a better experience. The inner diameter of the column tube is 6.6-50mm, and the height of the end of the column tube is adjustable. The convenient design makes the height adjustment of the column bed more convenient.
Features:
1. Standard liquid phase design
The cylinder is made of borosilicate glass, and is equipped with 25 micron (PTEF or PE) filter as standard, with a wide range of applications
2. Resistance to organic solvents
Just replace the PE filter, use PTFE filter to make the entire liquid contact part become a full PTFE path, which is very suitable for organic solvent applications
3. Convenient column and tube connection
All columns are equipped with a set of standard connectors (two 1/4 "-28UNF mounting connectors and washers) to connect the two ends of the column and the pipeline. We can also provide M6 connectors to facilitate some users to connect other M6 threaded pipe fittings in the system
4. Complete replacement parts
We can provide replaceable glass column tubes, column tube ends, various filters and O-rings for a fee. In addition, we can provide filter replacement devices, pipelines and joints for a fee.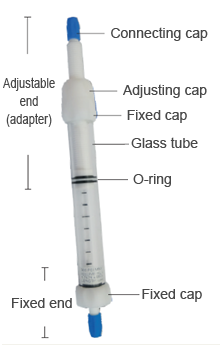 specification:
Column tube specifications

OF

AA

Inner diameter × length (mm)

Pillar bed height cm

Column bed volume ml

Pillar bed height cm

Column bed volume ml

6.6 × 150

4-12

1.4-4.1

0.24-12

0.1-4.1

6.6 × 250

14-22

4.8-7.5

6-22

2.1-7.5

6.6 × 400

29-37

9.9-12.7

21-37

7.2-12.7

10 × 100

0.24-7

0.2-5.5

0.24-7

0.2-5.5

10 × 150

4-12

3.1-9.4

0.24-12

0.2-9.4

10 × 250

14-22

11-17.3

6-22

3.1-17.3

10 × 400

29-37

22.8-29.1

21-37

16.5-29.1

10 × 500

39-47

30.6-36.9

31-47

24.3-36.9

15 × 100

0.24-7

0.4-12.4

0.24-7

0.4-12.4

15 × 150

4-12

7.1-21.2

0.24-12

0.4-21.2

15 × 250

14-22

24.7-38.9

6-22

10.6-38.9

15 × 400

29-37

51.2-65.4

21-37

37.1-65.4

15 × 500

39-47

68.9-83.0

31-47

54.8-83.0

25 × 100

0.24-7

1.2-34.4

0.24-7

1.2-34.4

25 × 150

4-12

19.6-58.9

0.24-12

1.2-58.9

25 × 250

14-22

68.7-108.0

6-22

29.4-108.0

25 × 400

29-37

142.3-181.6

21-37

103.1-181.6

25 × 500

39-47

191.4-230.7

31-47

152.1-230.7

35 × 150

4-12

38.5-115.4

0.24-12

2.3-115.4

35 × 250

14-22

134.7-211.6

6-22

57.7-211.6

35 × 400

29-37

279.0-355.9

21-37

202.0-355.9

50 × 250

14-22

280.4-440.6

6-22

120.2-440.6

50 × 400

29-37

580.7-741.0

21-37

420.5-741.0

50 × 500

39-47

781.0-941.2

31-47

620.8-941.2
Note:
AF: indicates that one end of the column tube is a fixed end and the other end is an adjustable end
AA: indicates that both ends of the column tube are adjustable ends, and the height adjustment range of the column bed is wider