It's been revised!
2020-05-18
In order to better serve new and old customers, Suzhou Sepure Instrument Co., Ltd. The official website of the company (hereinafter referred to as Sepure Instruments) has been fully upgraded. On the basis of maintaining the original style, the content is more abundant, and it is more convenient to browse and obtain information. After the revision, the original domain name remains unchanged: www.sepuretech.com . Users can enter the URL www.sepuretech.com in the search bar of the browser to enter the official website of Suzhou Sepure Instruments Co., Ltd. It is convenient to browse again in the future. Remember to bookmark the company website in the browser, and you can open it next time you click, no need to enter the domain name.

Enter Suzhou Sepure Instrument Co., Ltd. through the search engine to search, click on the first entry, and you will find the official website of Suzhou Sepure Instrument Co., Ltd.

Entering the company's website, the first thing that catches the eye is the company's main products: the classic SCG protein purification chromatography system, the new SDL protein chromatography system, the SCG-P series of large-scale all-in-one machines that will be launched on the market soon, high-pressure preparation Liquid phase system - relianx series. For the convenience of browsing, the three protein purification chromatography systems under the SCG series are directly displayed separately on the main page, and you can directly click to learn more detailed configurations. If you need to view more content by category, you can select the left and right arrows to view more content, or you can directly click the text in the gray box above to enter the corresponding product category to view. There are 6 preset options, which are laboratory-level chromatography system, production-level chromatography system, chromatography column and packing, instrument accessories, SCG chromatography workstation, and agent products. Laboratory-level chromatography system, the flow rate of the included instrument is within 100mL/min, and the inner diameter of the available chromatography column is less than 50-100mm. A production-level chromatography system with a flow rate greater than 100mL/min, which can be used in large-scale production. For the pipelines, joints and other accessories required in the test or production, you can view the instrument accessories options.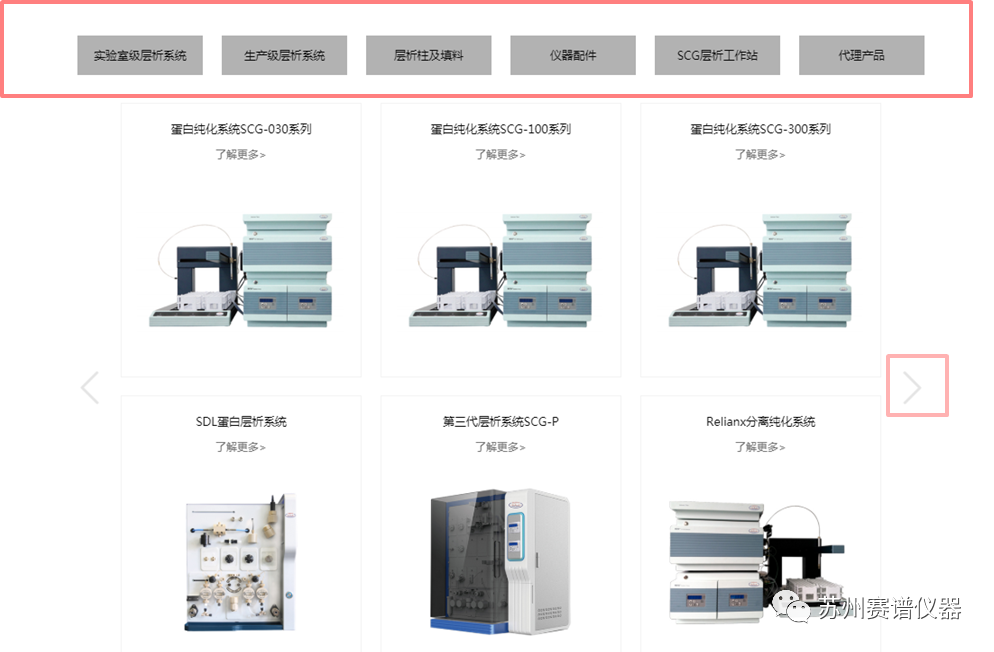 If you have any questions during the browsing process, you can click the online customer service on the right to consult at any time. There are various ways to consult, and you can directly contact the staff through QQ, WeChat, telephone, etc.
At the end of the detailed description of each product, an online message system is set up. Suggestions and opinions on Sepure instruments can be written into the online message system, and relevant personnel will reply to your suggestions.
For more information, please visit the official website of Sepure Instruments: www.sepuretech.com