Fully automatic protein purification equipment - gel filtration chromatography for fully automatic protein separation and purification methods
2020-07-24
Because proteins have the characteristics of large particles and different molecular sizes of different proteins, automatic protein purification instruments can separate according to the different sizes of protein molecules. This separation method includes dialysis, ultrafiltration, centrifugation and gel filtration. Among them, gel filtration is one of the most effective methods for separating protein mixtures based on molecular size, also known as size exclusion chromatography or molecular sieve chromatography.
The gel filtration of the automatic protein purification instrument can use the different molecular sizes of the separated substances and the fixed phase (gel) has the characteristics of molecular sieves to separate the components of the separated substances according to their molecular sizes, so as to achieve the purpose of separation. In some automatic protein purification instruments, gel filtration chromatography is often used in conjunction with other chromatography methods.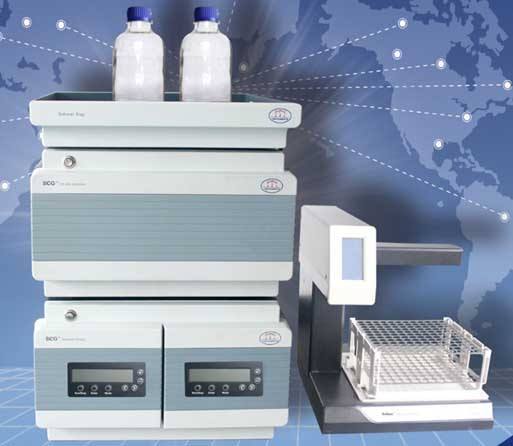 Gel chromatography is a fully automatic protein purification instrument that uses molecular sieves to separate proteins. Gel is a substance with a three-dimensional porous network structure, which is loaded into a chromatographic column after a proper solution balance. When a sample solution containing various molecules flows slowly through the gel chromatography column, macromolecular substances are difficult to enter the micropores of the gel particles, and can only be distributed between the particles, so when eluted by a fully automatic protein purification instrument Downwards move faster and are eluted first. In addition to diffusing in the gaps of the gel particles, small molecules can also enter the micropores of the gel particles, move downward at a slower speed during elution, and then be eluted. Thus, protein molecules are separated by molecular size.
Gel filtration chromatography is used for the separation and purification of fully automatic protein purification equipment. It has the characteristics of mild operating conditions and is suitable for separating unstable compounds. Moreover, the gel particles are uncharged and do not react with the separated substance, so the solute recovery rate is close to 100%, and the automatic protein purification instrument is simple, the separation effect is good, and the reproducibility is strong. The gel column can be reused, so This method is widely used in experiments such as non-separation purification of macromolecular substances such as proteins, molecular mass determination, and desalting.
Automatic protein purification equipment,protein purification equipment,protein purification system,high-throughput protein purification equipment,imported protein purification equipment